DCarter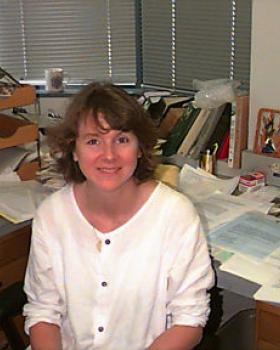 Email:
dcarter@angis.usyd.edu.au
Dee is currently on the faculty at the University of Sydney and teaches Microbial genetics and Medical mycology. Dee's research interests are in the application of molecular techniques to studies of medically important fungi:
Development of molecular markers to study toxigenic and non-toxigenic populations of Aspergillus flavus and A. parasiticus
Analysis of mating type and population structure in Cryptococcus neoformans var. gatti and C. neoformans var. neoformans
Analysis of population structure in Rhizoctonic solani
Publications
Carter, D.A., Burt, A., Taylor, J.W. and White, T.J. Developing molecular markers from arbitrarily amplified DNA fragments for the analysis of fungal populations (In: Methods in Molecular Medical Mycology, Humana Press, eds Ken Hayes and David Coleman, in press)
Takao Kasuga, Thomas J. White, Gina Koenig, Juan McEwen, Angela Restrepo, Elizabetha Castañeda, Carlos da Silva Lacaz, Elisabeth M. Heins-Vaccari, Roseli S. de Freitas, Rosely M. Zancopé-Oliveira, Zhenyu Qin, Ricardo Negroni, Deidre A. Carter, Yuzuru Mikami, Miki Tamura, María Lucía Taylor, Georgina F. Miller, Natteewan Poonwan and John W Taylor. 2003. Phylogeography of the fungal pathogen Histoplasma capsulatum. Molecular Ecology 12: 3383-3401.
M. Takabayashi, D. Carter, J. Lopez, O. Hoegh-Guldberg. 2003. Genetic variation of the scleractinian coral Stylophora pistillata, from western Pacific reefs. Coral Reefs 22(1): 17-22.
D. A. Carter, J. W. Taylor, B. Dechairo, A. Burt, G. L. Koenig, T. J. White. 2001. Amplified Single-Nucleotide Polymorphisms and a (GA)n Microsatellite Marker Reveal Genetic Differentiation between Populations of Histoplasma capsulatum from the Americas. Fungal Genetics and Biology 34(1): 37-48.
Elizabeth J. Pope and Dee A. Carter. 2001. Phylogenetic placement and host specificity of mycorrhizal isolates belonging to AG-6 and AG-12 in the Rhizoctonia solani species complex. Mycologia 93(4): 712­719.
J. G. McEwen, J. W. Taylor, D. Carter, J. Xu, M. S. Felipe, R. Vilgalys, T. G. Mitchell, T. Kasuga, T. White, T. Bui & C. M. Soares. 2000. Molecular typing of pathogenic fungi. Medical Mycology 38: 189-197.
Tran Dinh, N., Kumar, S., Pitt, J.I. and Carter, D.A. 1999. Molecular genotype analysis of natural toxigenic and nontoxigenic isolates of Aspergillus flavus and A. parasiticus. Mycological Research 103(11): 1485-1490.
Takabayashi, M., Loh, W., Carter, D.A. and Hoegh-Guldberg, O. 1998.  A coral-specific primer for PCR amplification of the internal transcribed spacer region of ribosomal DNA. Molecular Ecology 7:928-929.
Carter, D.A., Bui, T., Walsh, S. and Tran Dinh, N. RAPD analysis of Aspergillus parasiticus isolates from peanut-growing soils of Queensland, Australia. 1998.  Journal of Food Mycology 1:31-39.
Burt, A; Dechairo, B.M.; Koenig, G.L.; Carter, D.A.; White, T.J.; Taylor, J.W. 1997. Molecular markers reveal differentiation among isolates of Coccidioides immitis from California, Arizona and Texas. Molecular Ecology, v.6, n.8, (1997): 781-786.
Carter, DA; Burt, A; Taylor, JW; Koenig, GL; and others. A set of electrophoretic molecular markers for strain typing and population genetic studies of Histoplasma capsulatum. Electrophoresis, v.18, n.7, (1997): 1047-1053.
Carter, D A; Burt, A; Taylor, J W; Koenig, G L; White, T J. 1996. Clinical isolates of Histoplasma capsulatum from Indianapolis, Indiana, have a recombining population structure. Journal of Clinical Microbiology, v.34, n.10, (1996): 2577-2584.
Burt, A., D.A. Carter, G.L. Koenig, T.J. White & J.W. Taylor. 1996. Molecular markers reveal cryptic sex in the human pathogen Coccidioides immitis. Proc. Natl. Acad. Sci. U.S.A. 93: 770-773.
Carter, D A; Burt, A; Taylor, J W; White, T J. PCR-based molecular genotyping in Histoplasma capsulatum. (94th General Meeting of the American Society for Microbiology, Las Vegas, Nevada, USA, May 23-27, 1994) Abstracts of the General Meeting of the American Society for Microbiology, v.94, (1994): 589.
Burt, A., Carter, D.A., White, T.J., and Taylor, J.W. 1994. DNA sequencing with arbitrary primer pairs. Molecular Ecology 3:523-525.