MCruse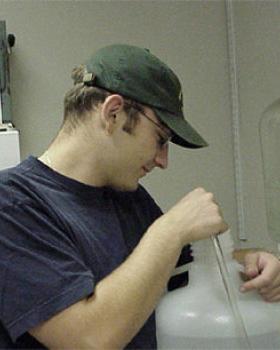 Michael joined the Taylor lab in June of 1999 and is a Molecular and Cell Biology major, with an emphasis on Biochemistry. Michael's greatest talent is his ability to make really yummy brownies. Michael deserted the Taylor lab for greener pastures in September of 2001.
After leaving the Taylor lab, Michael worked in Eva Nogales' lab at UC Berkeley. During 2005 and 2006 Michael worked in the Stroud lab at UC San Francisco.
Currently he's working at a winery in St Helena and hopes to enroll in the Enology program at UC Davis.
Publications
Michael Cruse, Robin Telerant, Thomas Gallagher, Thomas Lee & John W. Taylor. 2002. Cryptic species in Stachybotrys chartarum. Mycologia 94(5): 814-822.